Stunning nature and modern comfort blend together when you book a getaway in our new glamping site. Nestled in the southern corner of the farm, surrounded by the forest with views of the Estuary, this private space will allow deep relaxation and time to unwind as you immerse yourself within the comfort and the beauty of the natural world.
Our deluxe canvas Safari tent is beautifully appointed with a wooden platform floor, queen size bed and luxury linens. It is designed to be a roomy experience for 2 adults. We pride ourselves on attention to detail and you will find the amenities we would desire if we were in your place:
binoculars, blankets, flashlight, lantern, first aid kit, bird field guides, cards, roasting sticks and an umbrella.
During your stay if open fires are permitted there will be a fire prepared for your first evening. Additional firewood is available for purchase for the remaining days.
There is an outhouse close to the glamping site with indoor solar lights and cold hand washing sink. At our barn, there is a bathroom with shower facilities that is reserved for glampers use only during your stay. We provide towels, but bring your own toiletries.
Access to our private walking trails and viewing benches, disc golf course (Saturday: pre-booking required for tee time), nature nooks, nearby river (Goldstream Park), allows for activity without getting in your car. If putting your feet up is more your style, a covered deck with adirondack inspired chairs and a hammock awaits you in this private site.
"I have never come across a piece of land that speaks and listens so well. It is emotionally moving in ways that are indescribable. I think it has a lot to do with the stewardship of the land. You feel all the love, connections, and wholehearted acceptance that is generated there." 
Bookings for our glamping site are done through our email, Bookings@marysfarm.ca. Please contact us via email or the button below to book your stay or if you have any questions.
Check in time is 4pm. Check out by 11am . Upon arrival you will be greeted by one of our staff to orientate you to the site, the farm, and share any other information needed. 
At the time of your booking you have the option to add on food/beverage services, guided Equine Facilitated Wellness, and small animal visits for additional fees. These need to be arranged ahead of your arrival. You are coming to a working farm and while our glamping site is private, the farm will be active during your stay.
A waiver will be sent to you at the time of your booking to be returned before check in. This is a requirement of our insurance provider as we are an active farm.

Our 30 Acre farm is available for a variety of bookings. Including but not limited to weddings, corporate events, family reunions, workshops, retreats, and group camping. The farm is able to accommodate many unique booking requests.
We offer indoor and outdoor spaces that can accommodate many different group sizes and needs. We also offer a number of services and features that can be tied into your booking. This includes, but is not limited to, facilitated animal interactions, disc golfing, mindfulness and horses, and guided nature walks.
Our land is flexible and able to transform to fit the vision of your event. Farm Facility rentals are done through our Email. Contact us at bookings@marysfarm.ca or use the button below, with any questions about your future event. We look forward to hearing from you.
At this time we are able to host small intimate gatherings. Please contact us for more information
Join us for a 1 hour guided farm experience. In this time our staff will lead you through animal interactions that may include any or all of the following: egg gathering, feeding of small animals (goats, bunnies, chickens, etc), horse and herd observations, and possible grooming time with the horses or goats. We will also take you on a tour of our Children's Garden and have some time for swinging on our tire swing! This offering can be tailored to the ages and abilities of the group.
Guided experiences are only available in summer. Please email admin@marysfarm.ca or use the button below for more information or to book.
Prices: 1-8 participants: $85/hr.
9-16 participants: $170/hr.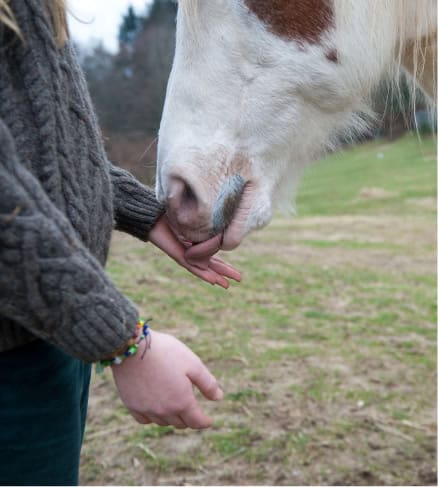 Equine Facilitated Learning
In our chaotic and fragmented world, the peace we can feel in the presence of horses is nourishment for our soul. Join our herd of beautiful horses and our EFW practitioners in the safe, soothing, and peaceful energy of the Sanctuary.
Here you'll find time and space to slow down and "just be" with the horses and their wisdom. Instinctual and intuitive horses are finally attuned to their environment and to other beings. They can help guide you into resonance and to be present with whatever is true for you right now. Held in a field of love and acceptance.
You will be guided towards your own special reflective or interactive experiences with the horses and facilitator. These private sessions are for adults; guided by your experience in the present moment. Opportunities to learn the skills of natural horsemanship arise effortlessly and can translate to the relationships in your life – with yourself, with others, and with the natural world.
$120+gst for 1.5 hr session. Contact our office at admin@marysfarm.ca to book an appointment. This is a seasonal opportunity based on weather.